Meet the lineup
BlackMarket
A stylistically unique Rock Band from day one. BlackMarket are a 5 piece band established in Watford in 2017.
Throughout the course of the band's union, they have won over the hearts of music lovers from all walks of life; performing ... view artist profile
Midnight Shoppers
Midnight Shoppers are a bassline-driven alternative rock band blending rhythmical grooves with catchy melodies and textural guitar lines. Their debut EP, The Every Day, ranges from acoustic, White-Stripesy rock, to high-energy synth-based indie.&n... view artist profile
Ali In The Jungle
Following the release of the anticipated Anyway and Late Night Triple Bill EPs with a string of acclaimed music videos, Ali In The Jungle have already received comparisons to many of their heroes such as Bob Dylan, David Bowie, T... view artist profile
Hooga Crow
London-based jangly, alt-rock outfit Hooga Crow are a North London based alt-rock band blending the roots of garage rock and the dreamy textures of shoegaze.
They spent lockdown honing their sound and working on new songs for an upcom... view artist profile
The Late Aprils
The Late Aprils are a 4-piece alt-rock band from Hertfordshire, with a signature sound anchored in jagged riffs and soaring, anthemic choruses.
Telling stories of personal heartbreak and social upheaval, the band&rsqu... view artist profile
The details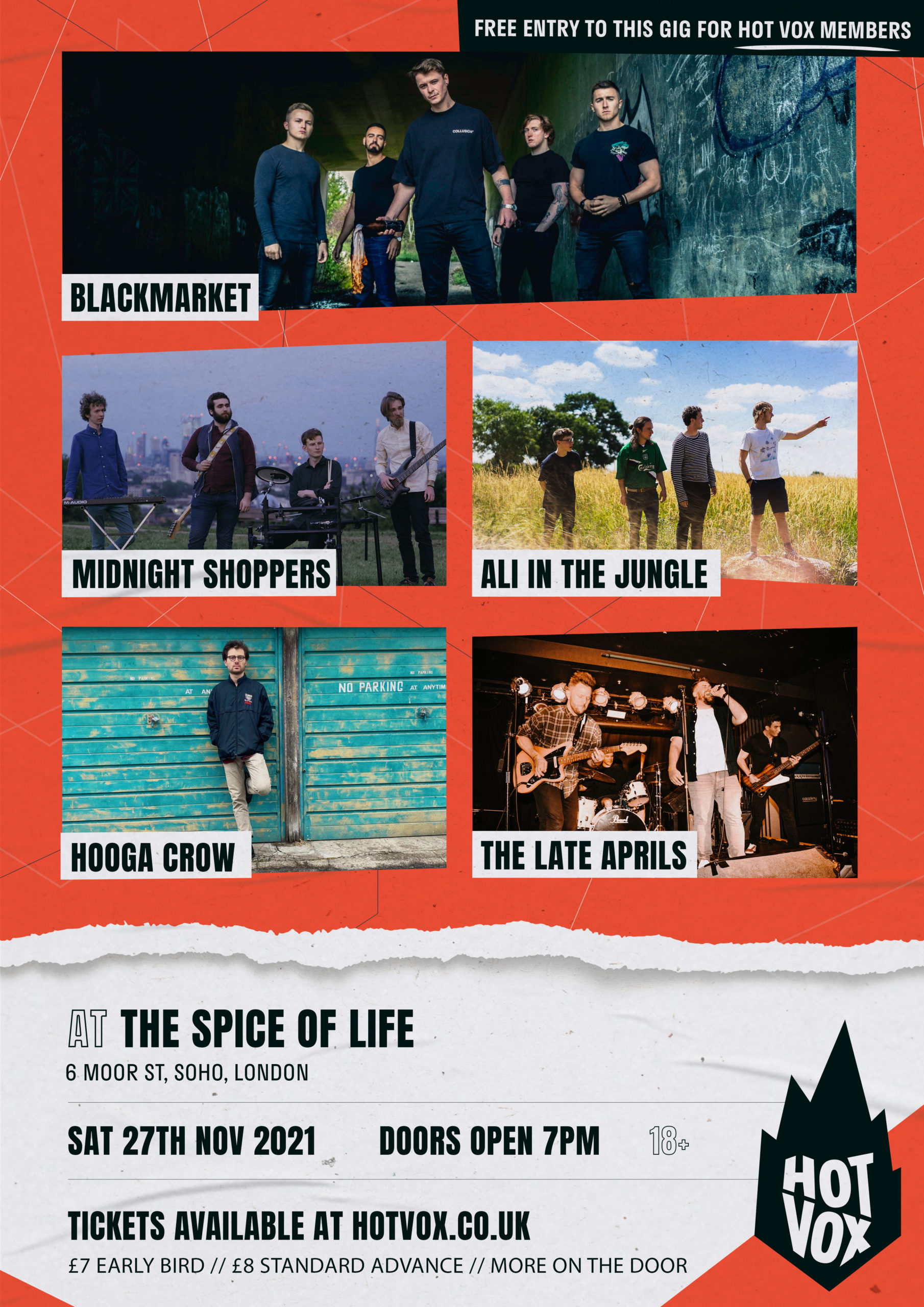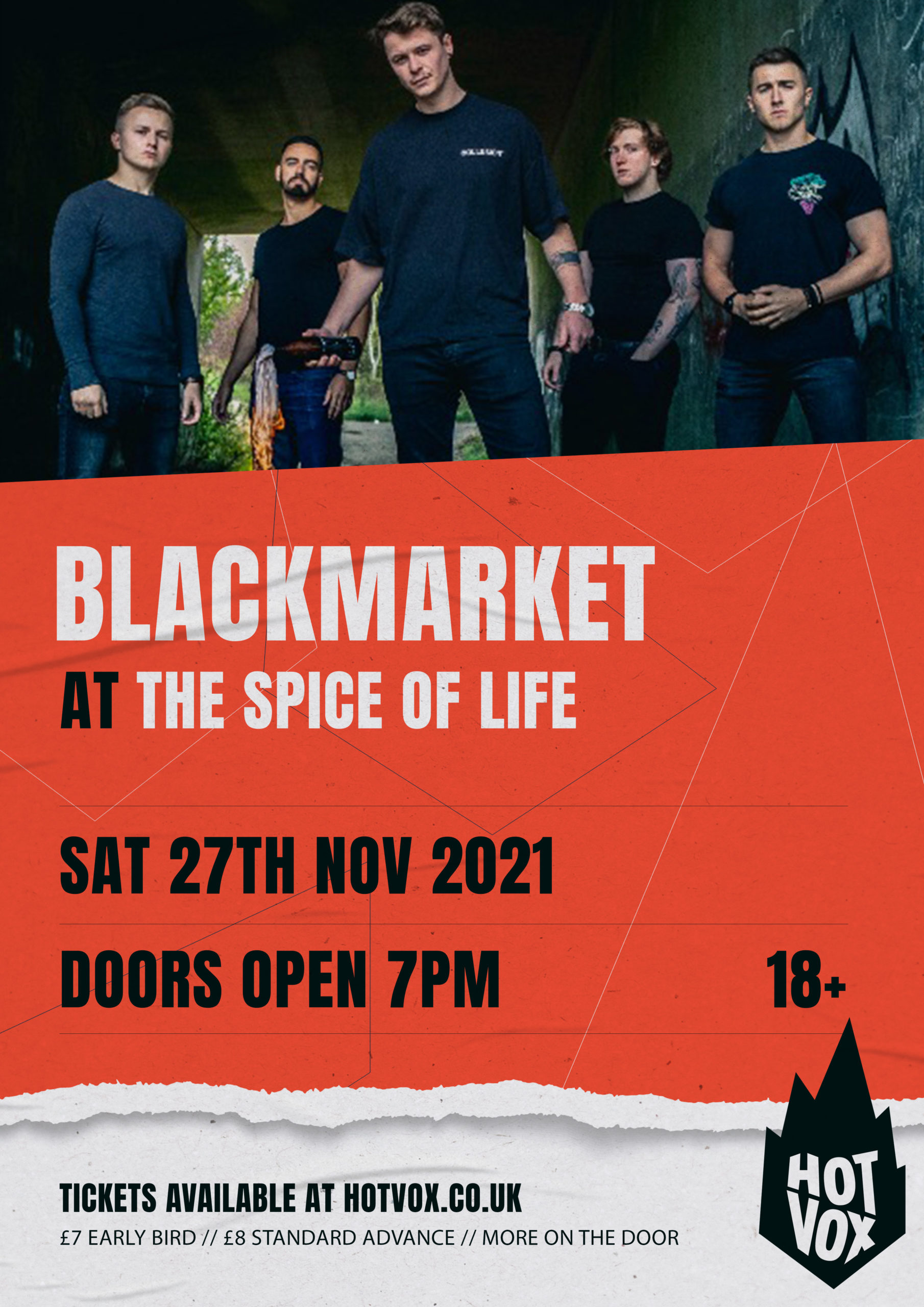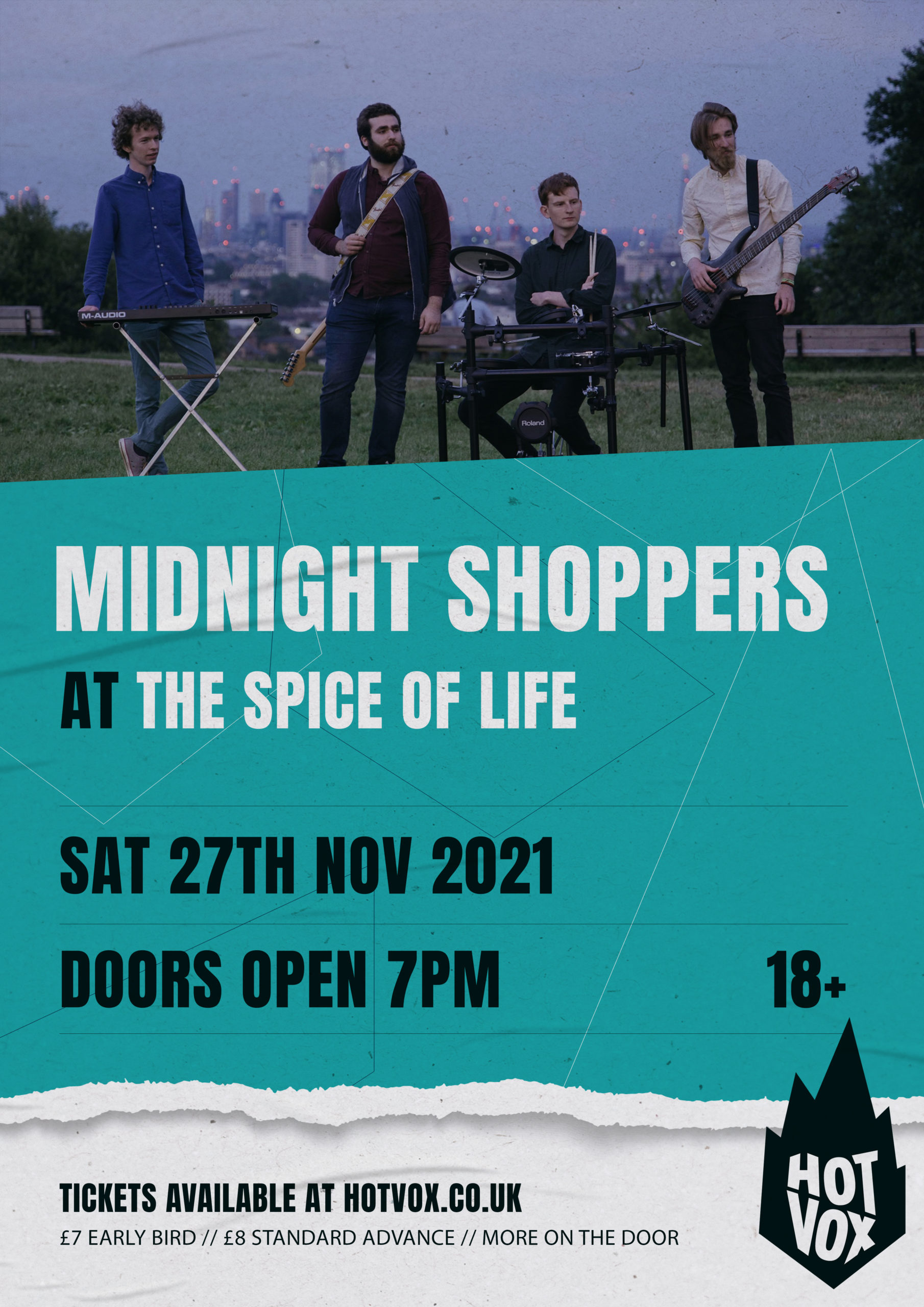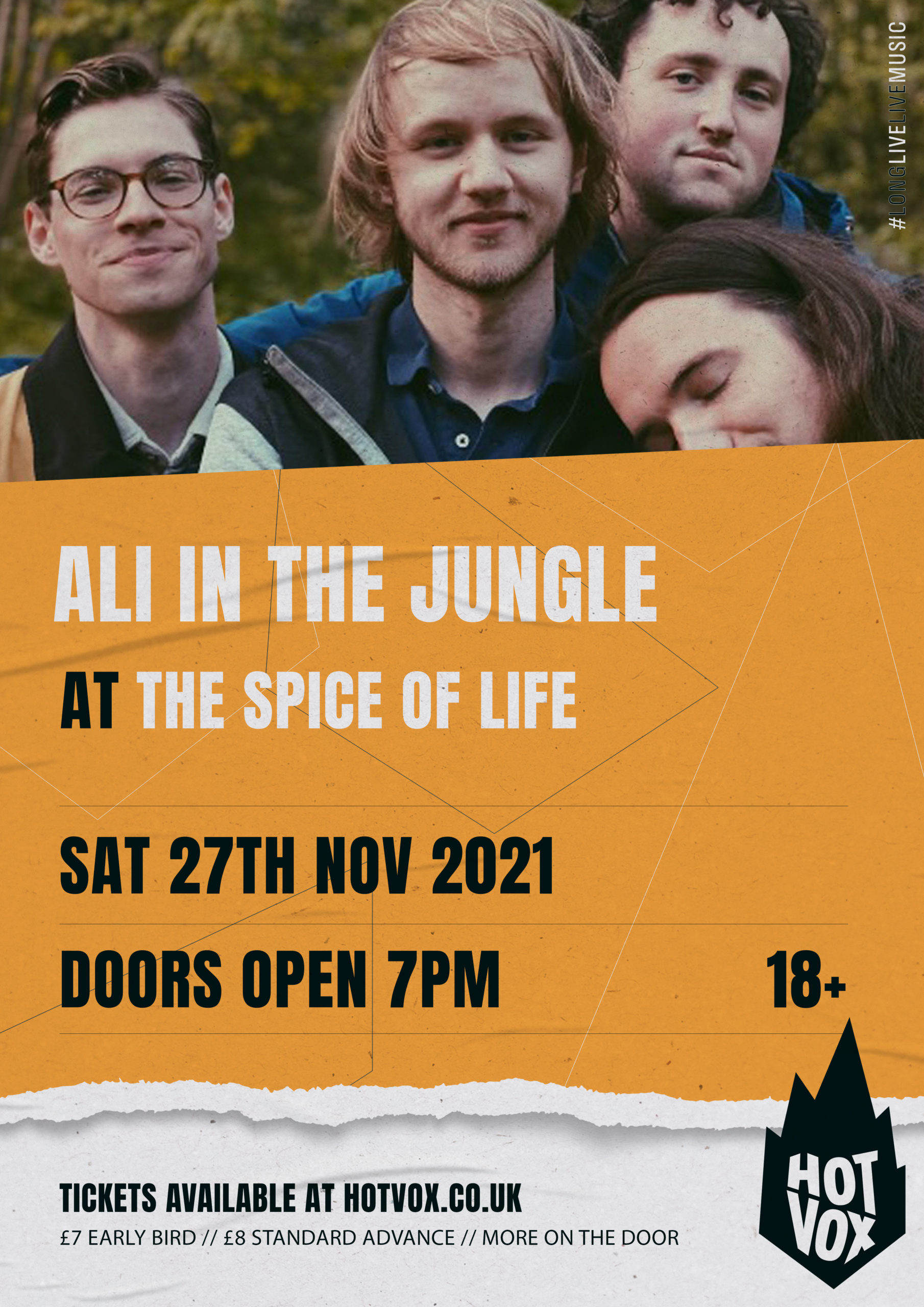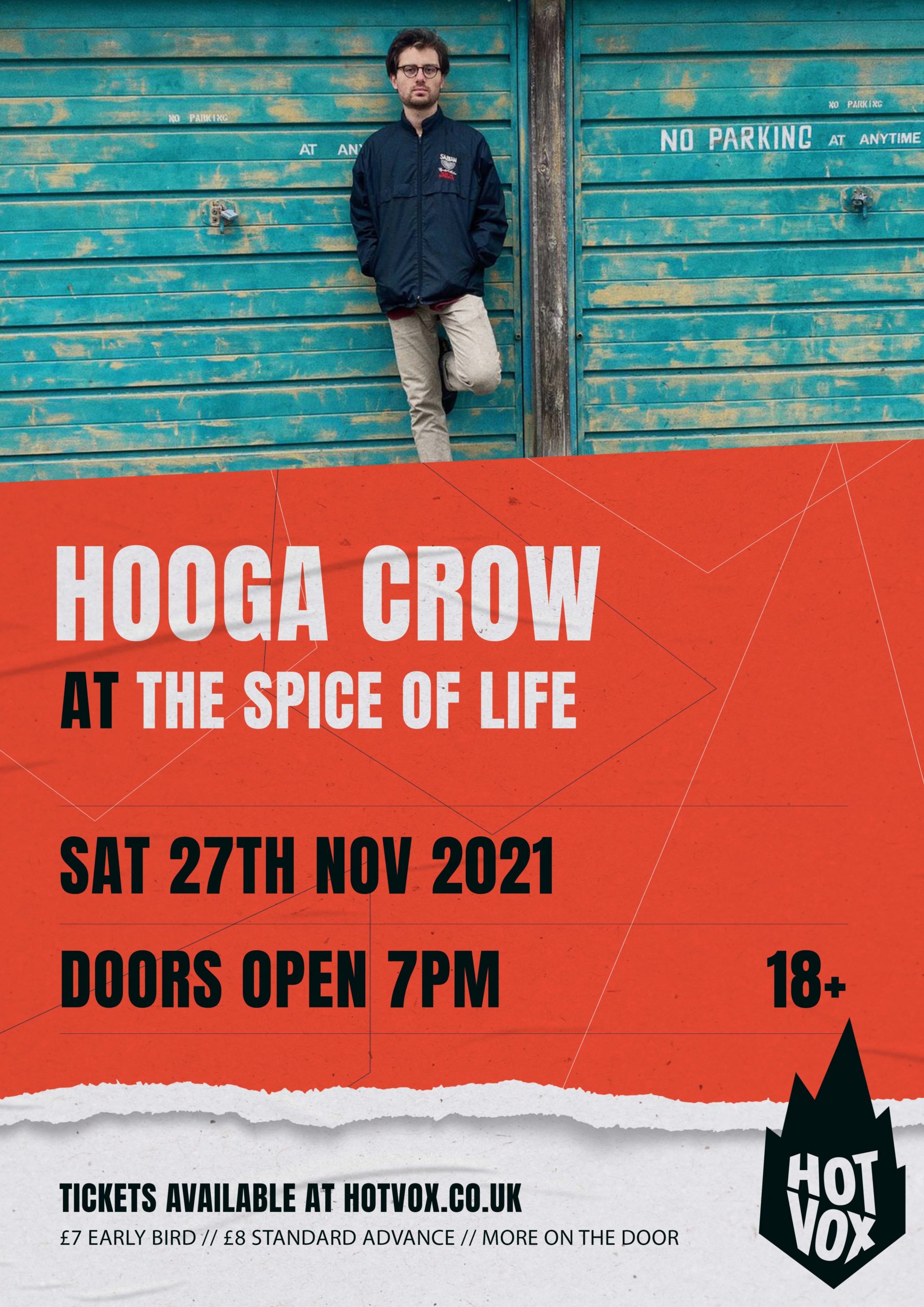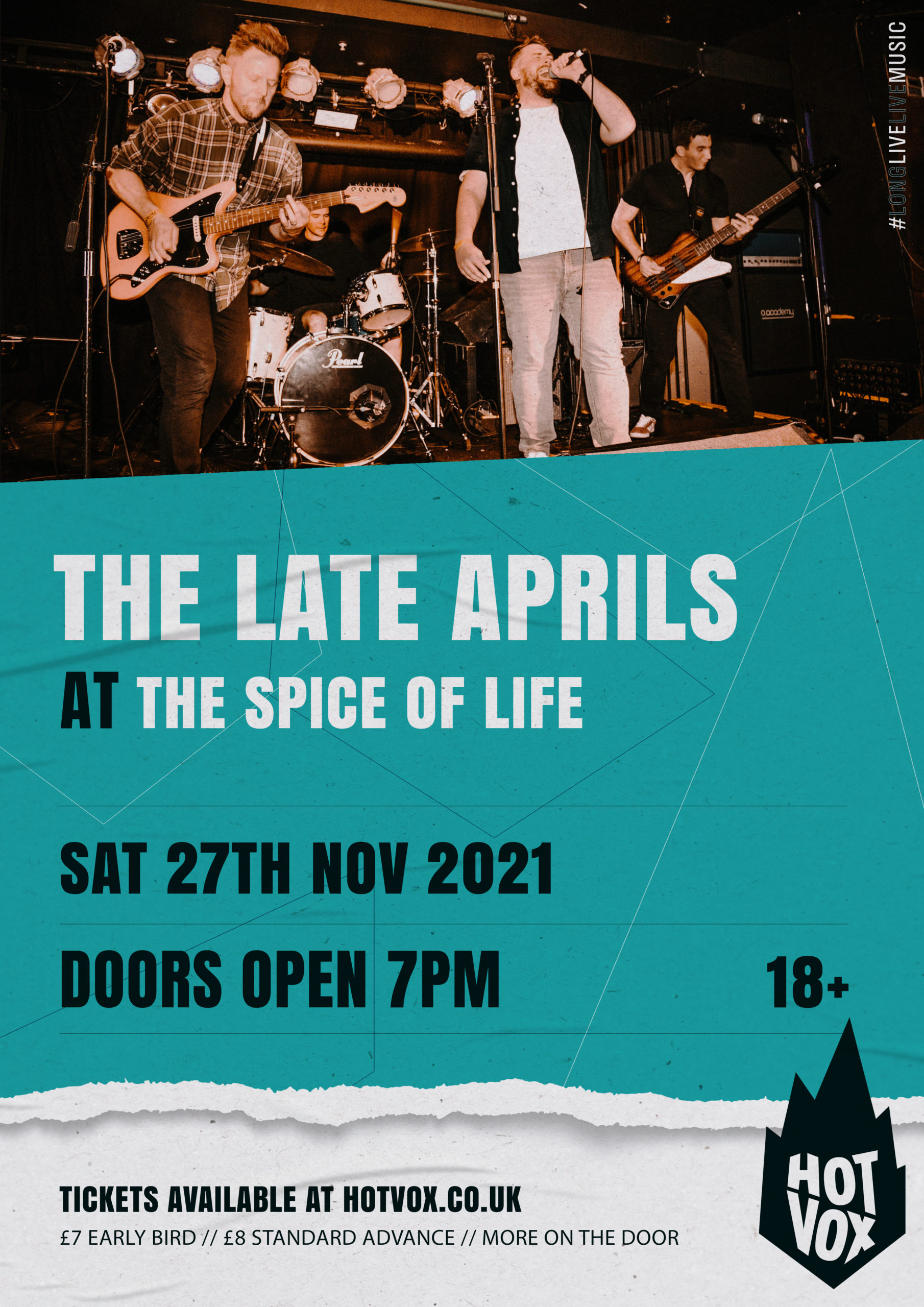 Key Info
DOORS OPEN
7:00pm
MINIMUM AGE
Strictly 18+ (I.D may be required)
TICKET COST
£7 Early Bird £8 Standard Advance More on The Door
CAPACITY
100
STUDENT DEALS
Music students (ACM, BIMM and ICMP) receive Early Bird Ticket price on the door. Valid student photo ID required and entry is subject to capacity
Terms
Long Live Live Music!
The venue
A pub that has truly stood the test of time… surviving two world wars and retaining its traditional charm. As well as being a listed building, The Spice of Life also has an esteemed musical heritage.
In the 1960's and 1970's the venue saw many great acts of the time, such as Bob Dylan, Paul Simon, Cat Stevens, Bert Jansch, The Strawbs and Sandy Denny performing here. Then in the heyday of punk in the late 70's The Spice of Life became a regular haunt for many punk musicians and followers, including The Sex Pistols. In the late 90's a thriving Jazz Club started up at The Spice, and has attracted many top acts, such as Jamie Cullum, Soweto Kinch, Darius Brubeck & Daryl Sherman.
Share
Copied!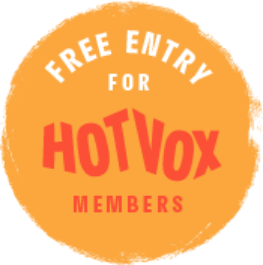 Get tickets