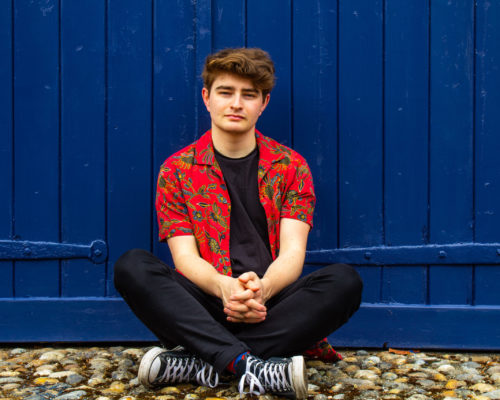 Yellowlees
HOT VOX showcase some of the freshest emerging artists breaking through onto the scene, but in an industry saturated with new music, how can you cut through the noise?
To separate the best from the rest, we have cherry picked one of our favourite new acts and are pleased to have them as our Artist Of The Day.
Today's Featured Artist Of The Day is Yellowlees

Yellowlees is an emerging singer-songwriter originally hailing from the South Coast of the UK. Having written songs and played in bands since the age of 15, Yellowlees is trying to make something honest with his music. Now 23, he independently released his debut EP "Eden" in September 2016, full of catchy songs, honest lyrics, and raw emotion. Yellowlees always tries to write heart-on-the-sleeve confessions of what's on the mind – if any one person connects with a song in any small way, then it's all worthwhile. Known locally for his energetic live shows, there's nowhere Yellowlees feels more at home than playing live. 2018 saw Yellowlees adopt a DIY approach, recording and self-producing single 'Blew My Cover' in his bedroom, which appeared on his second EP 'Homemade', released in October that year. Newest single 'Heading West' arrived in the latter stages of 2019, highlighting his knack for creating catchy, heartfelt, upbeat-but-introspective records.
Previous shows include supporting the likes of Johnny Lloyd, The Tin Pigeons and The Islas, for Scruff of the Neck Promotions, and competing in the grand final of the Wedgewood Rooms Showcase 2016, along with radio play and support from BBC Introducing Norfolk. Festival appearances include Oxjam Norwich 2017 & 2018 and Icebreaker Festival 2018.
"[His music] undoubtedly stunningly showcases his knack for crafting tunes that are simultaneously infectiously captivating and stirringly poignant" – Atwood Magazine
"Instantly likeable…this was a memorable performance from an extremely talented artist who we're confident will go on to become much more popular" – This Is Noise
"[He] has found this balance between being a sensationalist pop songwriter, and someone with an ability to keep all sense of credibility…an imagination capturing sound" – The Pentatonic
WANT TO HEAR MORE? Yellowlees is taking part in RISING, our brand new series of live-streamed events, which aims to support and raise money for War Child UK to assist their work during the Covid-19 crisis.
HOT VOX have raised thousands of pounds for War Child through live gigs and events over the past two years. Now we're taking RISING online, and with the help of our immensely talented roster of artists, we hope to raise even more vital funds for this valuable cause.
Tune in to see Yellowlees streaming live on 08.05.2020 at 6:00pm!