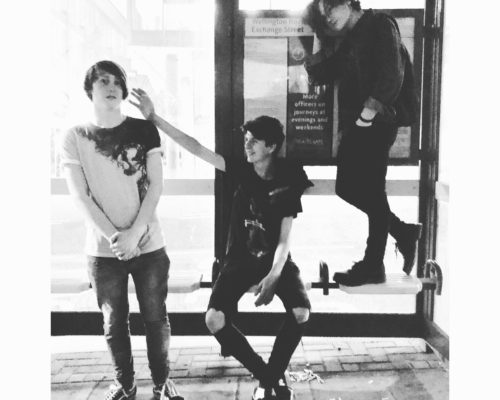 11 HOURS
Discover your new favourite act and keep up to date with the latest and most exciting emerging artists currently on the scene.
Today you can say you heard Eclipse by 11 Hours here first!

11 Hours are an indie rock band from Stockport. The band consists of Jack Wood (vocals / guitar), Finlay Renshaw (bass guitar) and Noah Fantom (drums). All currently studying at 6th Form college, they have simultaneously recently recorded their first two tracks in studio with the support of music producer Chris Warr (False Advertising) and sound engineer Illya Gosling (SMS). The band makes a big sound for a 3 piece and some have described this as having elements of Joy Division, Blink 182 and Metallica. They have spent the last two years writing and performing their own music, and could be seen and heard regularly at 7 Miles Out on Stockport Market Place, alongside other venues such as The Spinning Top and Night & Day Cafe amongst others. In 2017, 11 HOURS were newcomers to Blackthorn Festival, performing on the Future Headliners stage, where they returned to the main stage for the second time in 2018.
WANT TO HEAR MORE? 11 Hours is taking part in RISING, our brand new series of live-streamed events, which aims to support and raise money for War Child UK to assist their work during the Covid-19 crisis.
HOT VOX have raised thousands of pounds for War Child through live gigs and events over the past two years. Now we're taking RISING online, and with the help of our immensely talented roster of artists, we hope to raise even more vital funds for this valuable cause.
Tune in to see 11 Hours streaming live on Monday 25th May at 4.00pm
Click here to tune in, watch and donate