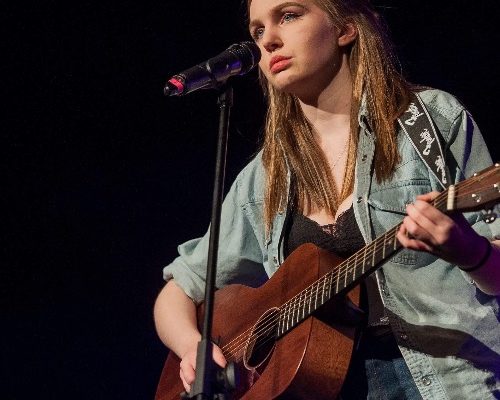 Alice Maria
Our LISTEN LIVE playlist showcases a culmination of songs from some of our favourite artists that you can catch performing live in the upcoming weeks.
Today's addition to LISTEN LIVE is Prom Queen by Alice Maria
Somewhere between the catchy choruses of pop and the dark themes of alternative sits Alice Maria, a 20 year old singer-songwriter based in Brighton. Alice began songwriting at the age of 14, and made a name for herself in late 2017 as a grand finalist of Open Mic UK. Since then, she has become a regular face of the Brighton gigging scene, gaining a loyal following from her original songs and 'girl next door' vibe. She has also gained a wide social media fanbase from posting acoustic covers of pop songs, adding her own unique indie style.
WANT TO HEAR MORE? To see the premiere of Alice Maria's "Listening Party", head to hotvox.co.uk on Wednesday 2nd December at 8pm.
Filmed in full HD, "Listening Party" allows you to enjoy the intimacy and authenticity of a live show, from the comfort and safety of your own home, ensuring that your experience as a fan is as close as possible to the show you're used to seeing from your favourite artists
The live industry has been decimated by Coronavirus, and the livelihoods of many musicians, venues, promoters, agents, managers, sound engineers, videographers and stage reps hang in the balance. Many of these individuals are freelancers, self-employed, or sustain themselves project-to-project, or gig-by-gig.
Best of all it's totally free to watch – and you can get access to some exclusive rewards from Alice Maria …