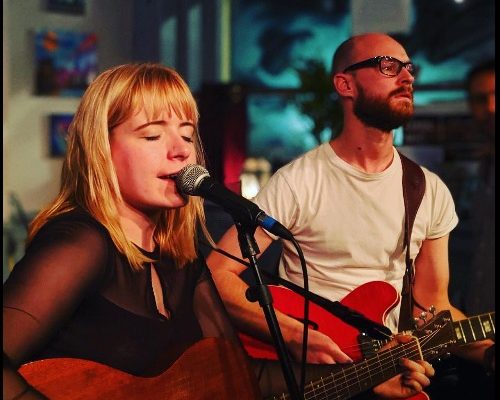 Khashoggi
Our LISTEN LIVE playlist showcases a culmination of songs from some of our favourite artists that you can catch live-streaming in the upcoming weeks.
Today's addition to LISTEN LIVE is Losing It All by Khashoggi

Khashoggi is a duo based in London, formed by songwriters Jessica Craig (vocals) and Michael Webster (guitars) during Summer 2017. With influence from a plethora of artists such as Father John Misty, Weyes Blood, Lana del Rey, The Beatles, Blur and Elvis Costello; as well as classic blues and jazz artists such as Ella Fitzgerald, Etta James and Aretha Franklin; they produce a sound which has been described as edgy, modern and soulful, but hard to pin down to a single genre.
Jess and Michael have a long history of playing music, both have been in other bands and Jess has performed as a solo artist. She has sang for most of her life and completed a music degree in Manchester. Michael has been playing guitar for around 15 years, originally specialising in blues music before expanding to other styles. The two met whilst performing in a covers band in the West Midlands (where they originally come from) and found they shared a large number of musical (and non-musical) interests which led to the formation of Khashoggi.
WANT TO HEAR MORE? Khashoggi is taking part in RISING, our brand new series of live-streamed events, which aims to support and raise money for War Child UK to assist their work during the Covid-19 crisis.
HOT VOX have raised thousands of pounds for War Child through live gigs and events over the past two years. Now we're taking RISING online, and with the help of our immensely talented roster of artists, we hope to raise even more vital funds for this valuable cause.
Tune in to see Khashoggi streaming live on Friday 5th June at 8.00pm
Click here to tune in, watch and donate