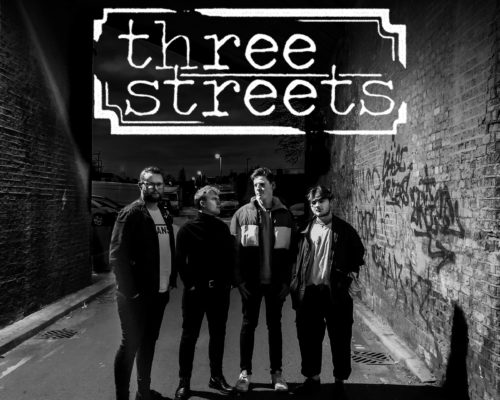 Three Streets
Our LISTEN LIVE playlist showcases a culmination of songs from some of our favourite artists that you can catch performing live in the upcoming weeks.
Today's addition to LISTEN LIVE is Window Girl by Three Streets
A note through the letter-box of their drummers house after a rehearsal read:
"control your f***ing children, I live THREE STREETS away and can still hear them. teach them some manners and close the window. it is UNACCEPTABLE, sort it out."
so they turned up their volume and kept on playing loud; thats where their name comes from.
Three Streets are four mates, from NW London, who started jamming with each other, writing songs which combines a balance between their varied music influences. After their first few local gigs they really started creating not only an individual sound, but also an image and name for themselves. They not only recorded and released their debut single "WINDOW GIRL" but also released their debut EP "LOVER" onto all major platforms the month after.
Following on from this they had their first Headline at Camden Assembly as a sell out show.
After making it into the final 8 out of over 5000 submissions, for the Isle of Wight Festival New Blood competition;
They played the quarter finals at the Underbelly in Hoxton,
Returned to Camden assembly for the semi's finals,
getting voted onto the next round at both they finally played a smashing gig at o2 Academy Islington.
They are starting to move around the London gig circuit, having played the Dome as a part of Hot Vox's Rogues Gallery, been approached by and playing such establishments such as The Water Rats, The Islington and The Flag, as well as the venues already mentioned. As well as branching out around the UK.
They recently released their latest single ' young. dumb. ' and are set to release their new singles in the coming months of 2019. "The whole atmosphere of a Three Streets gig is whats so special not only the music but their presence in the room is remarkable"
– Tom Dengley (Producer).
WANT TO HEAR MORE? Watch on Youtube HERE and listen on Spotify HERE