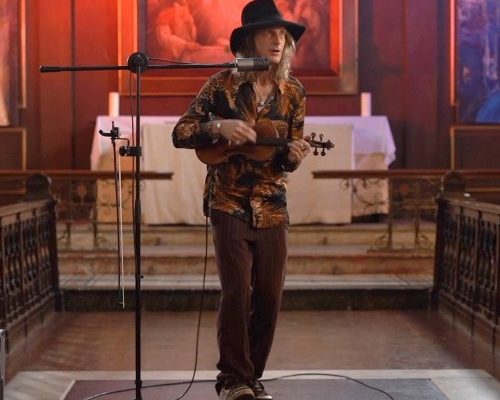 Wolfe Hogan
Our LISTEN LIVE playlist showcases a culmination of songs from some of our favourite artists that you can catch live-streaming in the upcoming weeks.
Today's addition to LISTEN LIVE is American Rose by Wolfe Hogan

Wolfe Hogan drags a classical violin through a country hedge backwards. His blue-grass blood, Celtic fingers, Viking lungs and gypsy heart can be heard in every song. He creates super rich soundscapes with a fiddle/loop set-up delivering songs that touch and inspire. His acerbic social commentary is the perfect panacea to any prevailing climate of hate and ignorance!
WANT TO HEAR MORE? Wolfe Hogan is taking part in RISING, our brand new series of live-streamed events, which aims to support and raise money for War Child UK to assist their work during the Covid-19 crisis.
HOT VOX have raised thousands of pounds for War Child through live gigs and events over the past two years. Now we're taking RISING online, and with the help of our immensely talented roster of artists, we hope to raise even more vital funds for this valuable cause.
Tune in to see Wolfe Hogan streaming live on Saturday 18th July at 7.00pm
Click here to tune in, watch and donate