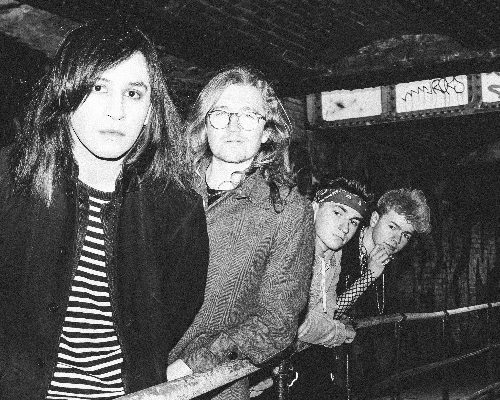 RAVENFANGS
We sat down with RAVENFANGS to find out what makes them tick ahead of their big premier for RAGE!! this Friday at midday, watch as it goes live here – https://hotvox.co.uk/event/rage-music-video-premiere/
In this feature, we'll speak to some of HOT VOX's favourite new artists on the gigging scene and find out what shaped them into the artist they are today.
Today we're featuring RAVENFANGS.
South-West London Rockers, RAVENFANGS are not simply a band, but a communion of ideas and intents. Marco, Joe, Will and Simon make RAVENFANGS, a particularly unique band known for their raw and high-powered live shows.
Who are RAVEFANGS? Where you're from, how you met, how long have you been playing together etc
We are a band from south west London fate brought us together and we've been a band for 2 years now
Who came up with the band name and does it have a story or any meaning behind it?
We wanted the name to include fangs so we settled with Raven. It was Marco's idea to add the name of Raven before Fangs as there's a cat who comes to his garden every morning with big fangs and he calls him 'Raven" and then we all felt it was a good name for our band.
If you had to describe the band using just five words, what would they be?
Chaotic, loud, energetic, heartfelt and beautiful
Who are your biggest influences musically?
Well, we all have the same taste in music from classic to modern, here are a few of them.
Nirvana
The Beatles
Rage Against the Machine
Green Day
Arctic Monkeys
My Chemical Romance
IDLES
Foo Fighters
Led Zeppelin
Jimi Hendrix
What's the band's biggest claim to fame so far?
RAVENFANGS MANIA
What's your songwriting process?
Always, usually Marco comes up with something nice and brings it in to show all of us and we add on to it and make it even better, or sometimes any of us will play a riff and then God gives us the rest Pure Magic.
If you could go on tour with any current band or artist, who would it be and why?
Would have to be Wargasm, Liam Gallagher, Arctic Monkeys, Inhaler, The Sherlocks, Pale Waves, IDLES. 
They all just have an unmatched energy.
It will be a good craic.
If you could put your dream team band together consisting of any musicians from the past or present who would the band members be?
John Lennon- Vocals 
Jimi Hendrix – Lead guitar, 
Flea – Bass
Travis Barker – Drums 
Liam Gallagher – Percussion
How would you describe your live show to someone who has never seen you perform before?
An exhilarating/explosive experience that while on the dancefloor just makes you daydream and be connected to yourself and everyone else around with lots of energy that makes you go bonkers! and at the end of the show makes you just want to be forever in Love.
Do any of you have any pre-gig or post gig rituals? If so, what and why?
We huddle around, pray for skill and give fist bumps to each other for good luck. 
Because we all are God's Children.
What would your ultimate rider be if you could have anything without being accused of being a diva?
Just lots of Yorkshire tea, Cheese, Fish, Pizzas, Salads, Bread, Honey, basically lots of food and the other good stuff. Oh, we would definitely need to have some nice good quality clothes and shoes to keep it up and stand out while on this Universe called EARTH.
This question is for all band members. If we were to browse your music library what is the most embarrassing song we might find? Or who is your guilty pleasure artist?
One Direction, 5S0S, ED Sheeran. They are good at doing what they do!
Tell us one thing your fans would be really shocked or surprised to hear or learn about the band
WE ALL COME FROM MARS
If people want to check you out online where is the best place to go?
We are on all streaming platforms including Spotify and Amazon music and we have the music video for RAGE!! Coming out on 21st of May.
Finally, What does the future hold for the band post RAGE!! release?
Touring and playing big shows all over the world and better music to be released!